GROUP COUNSELING and SUPPORT GROUP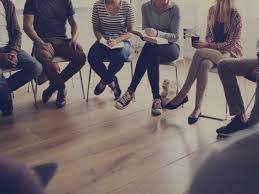 Group Wellness
Are you struggling with depression, anxiety, trauma or insomnia?
Have you been trying to figure out how to cope with changes in your career, relationships, or health?
Is it too difficult to manage grief, anger or disappointments on your own?
Do you want to improve your attitude, break bad habits and become the best person you can be?
We offer motivational group counseling/coaching in a compassionate and welcoming environment. 
Your Group Counseling
The long-term support of a group can help minimize feelings of isolation, provide you with non-judgmental listeners, allow you to work through difficulties and receive feedback from others. 
Group members must register in advance, sign a confidentiality agreement, and pay group costs.

Groups will be small enough to assure that you will receive the attentive support you need.

Group members will be welcoming, diverse, non-discriminating, and compassionate for everyone.

Group costs will be paid in advance at the time of registration. No refunds! (You can receive credit.)

Groups will meet a minimum of once per week and a maximum of three times per week depending on the type and topic.

Group members can request advance permission to bring a guest who must sign a confidentiality agreement and pay a guest fee.

Group tools such as books, booklets, copies, kits, and bags may be mandatory or optional for group meetings.
If you need help calming your anxiety and minimizing your fears of joining Group Counseling or Support Groups, please schedule an individual counseling consultation to learn more about the benefits of groups.
Your Support Groups
Support Groups provide a comfortable, accepting, respectful, non-judgmental, and confidential space that allows those with common challenges to connect. Some benefits of support groups include reducing or eliminating isolation, loneliness, and distress as well as improving your mood, attitude, and outlook.
Which Support Groups are you interested in?
__ Help with anxiety, fears, phobias, worries

__ Help with depression, loneliness, isolation

__ Help with bereavement, grief, loss

__ Help with abuse/misuse of drugs and alcohol

__ Help with relationships, friendships, communications

__ Help with self-esteem, insecurities, self-worth
Don't Delay.
Contact Us Today!
NOTE: Group dates and times will be posted soon!